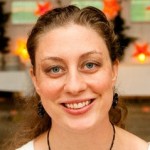 Last Tuesday, I stood in front of a class full of seminarians and made a presentation about how we would be imaging God in our class.  While I read scripture, I showed slides of classic Bible scenes as depicted by cultures all over the world.  Jesus was Korean, African, Chinese, Indian, White, European American, Sioux, Cherokee, Italian, Saudi Arabian, and Palestinian.  In my language, I spoke of what it means to open our imaging of God so that those in the pews can see themselves as created in God's image. In my language, I asked them also to imagine that the gay, lesbian, bisexual and transgendered members of their congregations were also created in God's image. I teach in a liberal, inclusive Jesuit seminary that has found a way to make room for Protestants from many denominations to study alongside Catholic students, and train together for work in ministry.
A year ago, I was a churchplanter in the Evangelical Covenant Church.  Shortly after my ordination in June 2009, I left the ECC church I had worked at for eight years to start a new congregation in Seattle's diverse University District.  As my husband and I made it known that we would be planting a new congregation, the question came up again and again: would I be welcome at your church? Would my parents be welcome at your church? When people start asking if they would be welcome, if they would be safe in church, something is wrong. I knew I needed to step into God's call on my life as a minister, and preach openly that all of us, gay and straight, are welcomed and celebrated in the God's kingdom. Soon thereafter, we officially announced that the churchplant would be open and affirming.
Here's where the proverbial poo hit the fan.  In the ECC, ministers are allowed to believe privately in open and affirming theology. They are not allowed to share in any public capacity that they believe homosexuality is something to be celebrated.  In a denomination where we tend to be good at keeping the central affirmations as our key points, and living with differences on the rest, I had mistakenly thought there was room for our view in the ECC. After all, we affirm the reality of freedom in Christ and the resolution on Human Sexuality is just that, a resolution.  We also have resolutions on recycling, but we aren't de-ordaining pastors for neglecting to separate paper and plastic.
Many pastors I have spoken with ask the question, "How can you think homosexuality is okay?"  Most seem to wonder if I've been reading a different Bible, or if I've just thrown the Bible out altogether.  On the contrary, I place a high value on scripture and affirm the centrality of the Word of God.  I also believe that scripture is not as clear as many of us would like to believe on the matter of homosexuality.  We can dig into the details another time, this is meant to be a forum for personal stories, but as the ECC, we should be asking more and more 'where is it written'.  Paul states that those who are not called to celibacy should not be celibate.  Is it sensible to believe every gay or lesbian person is called to celibacy?
To share my personal journey, I was raised in a conservative home that did not believe homosexuality was an option. In high school and early college, a few close friends who were devout Christians came out. My rational mind couldn't dismiss the fact that while these individuals were gay, they were also Christian.  I believe it is also important for me to confess that while I remained friends with the man who came out in my college fellowship, I didn't speak up when the same fellowship told him he could not serve in a leadership role even though he was celibate. While I continued to be supportive, I was only beginning to question the beliefs I was raised with. I came to believe I could affirm homosexuality outside the church, and that social justice and church could only exist separately. I could be one person in church, but had to be another person outside church. I could fight for health care and housing for people without legal immigration status, care for the poor, advocate for racial equality, women's rights, and gay rights outside the church, but I had to keep quiet about such matters inside the church. The problem was, the Jesus I kept reading about cared about all these things.
Somewhere along the way, I had adopted the belief that being a Christian and believing homosexuality was a sin were one and the same. Joining an ECC churchplant in Seattle in 2001, one of the first messages I heard included the pastor's story about walking alongside marchers in the gay pride parade, to show solidarity as a Christian. Suddenly, a whole new world of possibility opened for me. Social justice, including advocating for equal rights, could be a Christian pursuit. Entering seminary, I intentionally chose an open and affirming school, wanting to work out for myself the theological basis for social justice work around race and sexuality. I needed words and theology to express how I felt about faith and justice as a Christian. I attended school alongside gifted ministers, gay and straight, who taught me much about what it means to be a follower of Christ. Seeing their conscious dependence on the Holy Spirit, I again could not deny God's blessing in the lives of my LGBTQ brothers and sisters.
For a few years I remained at a church that, while leaving room for the people in the pews to believe what they would, at the end of the day agreed with the Covenant view that homosexuality was a sin. I struggled to figure out my place as part of the pastoral team. As I continued to find peace in believing Christianity and homosexuality weren't mutually exclusive, was being the 'safe' person for people to talk to about sexuality enough? Increasingly, it wasn't. While the debate around homosexuality wasn't the reason I left, I came to see my own silence from the pulpit as complicity in the heterosexual evangelical church privilege that actively oppresses our LGBTQ family members. When we started to plant our new congregation, Sinners and Saints, we were planting a church for everyone, and said intentionally and out loud that all of us are welcome to come through the front door.
That decision to 'out' ourselves as open and affirming had immediate consequences. The denominational funding we had been promised as a new churchplant was pulled and the ECC congregation I had worked at for over eight years of sacrificial ministry, paid and unpaid, pulled their support as well. I was (and still am) barred from attending any official Covenant functions, or speaking at any Covenant churches. We were alone in Seattle, and starting from scratch.  If I had been wiser, I would have stepped back and taken the time to reformulate planting a church and gathered more support. But I wasn't. Instead we tried to make it work, with no small amount of personal pride involved. Sinners and Saints made it eight heartbreaking and sometimes glorious months. In the midst of this time my credential was also pulled and without informing me or allowing me to be present, there was a successful vote to place me on inactive status at the June 2010 annual meeting. I have been asked to resign, but I have not for one reason: I believe I am a faithful Covenant minister.
The Ethical Principles For Covenant Ministers call for all clergy to provide pastoral care "regardless of race, gender, creed, ethnic origin, socio-economic status, or sexual orientation." Providing pastoral care means providing sound biblical teaching, support, guidance, prayer, and discipleship. Marginalizing members of our community based on sexual orientation and forbidding clergy to officiate marriage or union ceremonies, provide blessings for such ceremonies, or to even recognize the validity of such relationships does not allow equal access to either spiritual care or facilities usage. On the one hand, we are instructed to welcome and care for all people. On the other hand, we are told that such love and care comes with limitations that privilege the heterosexual members of our community.  As a minister, I am unwilling to buy into that system any longer.  As a denomination, will we make space for dissenting voices around the subject of human sexuality?
To be fair, the ECC has offered me the opportunity to go back on active status now that the church plant has closed. While conversations around the issue of homosexuality and Covenant policy have begun, we still have so far to go. If I am placed back on active status, I will not be silent, I will not try to work 'behind the scenes,' and thus require those LGBTQ Covenanters in ministry and in the pews to be silent and closeted. I will continue to preach from the pulpit our need as a denomination to repent of the heterosexual privilege that has cost our sons, daughters, parents, brothers and sisters so much—in some cases their very lives. We are told that this conversation must be avoided because it will bring division in the church. In truth, we are already divided. Those who disagree are required to transfer to other denominations, remain silent, or are asked to leave the church. I will continue to preach that we are all created in the very image of God. Some speak of anger toward the denomination, saying that the leadership is inflexible or behind the times.  In a denomination with congregational polity, it is not the task of the leadership to make change, it is the task of the pastors and laity to stand together and prayerfully request that room be made for each and every Covenanter to be openly welcomed into the fellowship. I do not naively believe everyone will agree, but I do believe we can now, as we have done in the past, make room to faithfully disagree and still remain in fellowship. We have models to follow in the United Church of Christ, the Evangelical Lutherans in America, the American Baptists, and the Presbyterian Church – USA.  There is hope, if we can together be courageous enough to enter into dialogue.
I must also confess that at too many points in my story, I remained silent. I waited to find the right words, the right phrasing, the right theology. I played within the rules of the denomination, within the rules of my own fear. I could justify my silence for a number of reasons, but I know and confess that silence was complicity. While I was silent I was a minister of the church who chose personal comfort over speaking up on behalf of those who continue to be silenced or disregarded. If the church is to come to any real reconciliation with the LGBTQ community, we must first confess, then repent and begin to bring justice into how we practice worship. We must ask forgiveness from those we have wronged, forgiveness we do not deserve. We must listen and sit with the stories of those who are no longer with us, those who struggle, those who we have silenced. We must learn to weep with those who weep, as did Jesus. In this lamentation and repentance, perhaps we can begin to learn how to be together, how to be truly welcoming and inclusive in our congregations and our leadership. I realize that my journey starts with me, with repenting of my own silence, working for justice, and continuing to sit and listen. I stand among other ECC ministers as a sinner holding to the hope that Christ can resurrect even me.
For real change to be made in the ECC, I must wait for my fellow brothers and sisters to also say this is not okay. There will be cost, but you have heard it said, "what good is it for you to gain the whole world, yet forfeit your soul?" For the sake of my own soul, I must stand. In response to mission workers who had come to reach out to her people, Australian Aboriginal woman Lila Watson said, "If you have come to help me, you are wasting your time.  But if you have come because your liberation is bound up with mine, then let us work together."  Come, let us learn to work together.