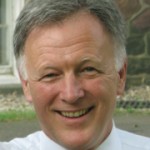 All I could hear was the deep breathing and occasional snore of the students asleep in the back of the van.  As a youth pastor I was taking high school students from New England to visit North Park College.  The young man in the passenger seat next to me, the only other person awake in the vehicle, asked me in level tones just audible over the radio, "Does Jesus really love homosexuals?" I was just glad to have him talking, helping me stay awake until we reached the hard comfort of a floor in the Covenant church in Youngstown, Ohio. I paused to think before responding. "Yes."  I spoke slowly. "I think he has to, because he loves everybody just as they are, without changing anything.  I mean that's basic Christian stuff."
Frankly, I didn't want to say any more than that, because I was afraid he might take my words home to his parents and I could get in trouble. I ignored the obvious questions: "Then why does our church call homosexuality a sin?" "Why does no one ever talk about homosexuals at church?"  "Why do Christians condemn homosexuals?" I just let it ride. For several moments we heard only the periodic thump of the wheels over the uneven asphalt sections of the Pennsylvania Turnpike.  "Oh," he said, "I just wondered."
Had I been a better youth pastor, I would have asked him some open ended question that would have helped him understand his wondering, but I didn't.  He sensed my fear and stopped talking.
Ten years after the van conversation I had moved to a new church and the questioning young man drove two and a half hours to have lunch with me.   I was glad to see him and relive memories of our times together.  But there was an urgency about him and over our greasy pepperoni pie he told me he that he was gay and had come out to his family.  Our eyes were full and his anxiety palpable.  He said, "I came here to thank you for saving my life."  I said, "I didn't save your life, you did."  "No," he said, "There was more than one time when I really wanted to take my own life, but I remembered what you said 'Jesus loves homosexuals… just the way they are.' These words saved me.  So… thanks."
I had tried, in the van, to get away with a throwaway line and play it safe.  I was overwhelmed to see that God could take my half hearted, anxiety filled attempt at living the gospel and do nothing less than save a young man's life.  Tears ran down my face.  Then it occurred to me, "How many lives could be saved if the church full-heartedly proclaimed the gospel to gay, lesbian, bi-sexual and transgendered people?"  The acceptance of homosexuals became a central issue for me and I began speaking out.  But after a few years I realized I was simply rattling cages: in my local church, in the ministerium, and sometimes on the floor of the denominational annual meeting.  I felt this was useless and after leaving the Covenant church I was in, I realized there was really no other church in the Covenant to which I could go.
Consequently, I entered the United Church of Christ, with dual ordination, and took a church.  They have a process for a church to become "Open and Affirming," that is, fully accepting of people who are LGBT.  My present church went through the process last year and decided to become a church that is welcoming to all people at every level of ministry: church friend, member, Sunday School teacher, Youth Group Advisor, Associate Minister, and Senior Minister.  We also agreed that the rites and sacraments of the church, including marriage, are available to LGBT people under the same conditions as heterosexuals.  (Gay marriage is legal in Connecticut.)
This did not come without a price.  We lost several members and, in this season of recession budgeting, we feel the pinch of losing $14,000.00 in pledges and probably a few more thousand in plate offering.  No small thing for a church our size.
Raising this conversation in the church will inevitably bring difficulty, even division.  But this is not to be feared, for it is the nature of the Gospel.  Among other things, Jesus was crucified for accepting those who others thought unclean.    My hope is that by my church becoming Open and Affirming, and through the actions that follow this decision, other lives will be saved and the Table of God's grace will more closely reflect the richness of God's creation.