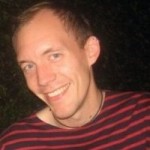 It is the stories of others that help promote dialog and understanding.  Most people that I know who have once held anti-gay viewpoints but changed their view on the subject, whether their anti-gay view was based on religious convictions or not, have stated that it was personally knowing someone or hearing someone's story that made them think about the issue in a different way.
Here is my story:
I was born in 1981, so much of my childhood was during a time when LGBT individuals had no or very little positive presence in the public sphere.  Although not everyone does, I knew that I was gay from a very young age.  I knew I was different and that this difference was not accepted in society and especially not in the church, so I kept it all inside and told no one of my feelings.
I come from a line of deep rich Covenant blood.  I am almost 100% Swedish and can trace many of my relatives back to Sweden (for non-Covenanters, the Covenant Church was founded by Swedes).  There have been numerous Covenant clergy in my family history dating back three or four generations.  I attended church every Sunday and unless I was on death's doorstep, I was there.  I attended a Covenant camp in the summers and even worked at one during a summer in college. I went to CHIC, and then completed the perfect Covenanter's journey by going to North Park University.  Throughout all this, I prayed to God to fix me, or heal me, or change me.  I wondered what I had done wrong to be so different from everyone else.  It seemed like a cruel joke.  I thought maybe if I prayed harder, or was a better Christian, God would make me "normal."  Nothing changed so I just put on the happy perfect Covenanter mask and continued living.  This only lasted so long before resentment and anger started to brew, and eventually I distanced myself from the Covenant and stopped attending church altogether, but never completely abandoned God.  I always knew that even though I might leave a denomination, I could never turn my back on God or deny his existence or presence in my life.
I basically stayed in the closet my freshman year at North Park, which was very difficult (living a double life becomes very tiring).  I started exploring the Gay community of Chicago by myself but kept it a secret from all my friends at the time.  My sophomore year I studied in Sweden for a semester and was blown away at how accepted LGBT people were there, and how much further along they were in regards to LGBT rights.  I came out to a few of my Swedish classmates (they didn't really understand what the big deal was).  I then came out to my two friends from North Park who were also in Sweden with me. I was supposed to live with them when we returned to North Park and wanted them to be able to find a different roommate if they were not comfortable living with a gay person.  Luckily they both were true friends and said they would of course still live with me, and that it did not change anything.
Throughout my junior year I slowly came out to more of my friends, but tried to keep it secret from "public" knowledge.   By my senior year I started to realize a lot of people knew and that I needed to tell my family, especially because my sister still lived in the North Park neighborhood and was around North Park a lot, and we all know how quickly gossip travels through churches ; )   I also realized I was starting to lose my relationship with my family, in the sense that I was not really telling them anything about  me or my life, because I couldn't.  I decided if I stayed in the closet I would eventually lose my relationship with my family, but if I came out there was a chance that I would not lose it.  I also had become fed up with the attitude towards LGBT individuals at North Park and decided I wanted to try and start a Gay Straight Alliance on campus.
I "came out" to my parents and sister via letters that I mailed them, which ironically they received on Valentine's Day. I will not go into the details of my "coming out" to my family because that is their story, but when I did come out to them, they all took it the best they possibly could have and I am very lucky to have had the experience I had.  After this I promptly started networking with "safe" faculty and students at North Park University and North Park Seminary, explaining my idea of starting a Gay Straight Alliance, which would be a place where dialog could start to take place.  I faced some resistance and some negative attitudes and negative letters in the North Park Press, but I was allowed to start the group and it was fairly successful for the rest of that semester.  At this point I was also covertly invited to join a group of mainly gay men from North Park, who were still in the closet.  They would meet once every week or so off campus at a former North Parker's apartment.  They mainly met to just have a time where they could all be "out" for a few hours and discuss gay issues or watch a film that dealt with gay themes, etc., which they could not really do on campus without being "outted."  I enjoyed my time with this group, but it was also frustrating because I was "out" and the other North Parkers were not. Back on campus it often felt like I was ignored by the other guys from this group, I assume because they were afraid people would think they were gay if they were seen talking with me which, sadly, I understood, because I had been in their situation when I was still in the closet.
Through the process of starting the Gay Straight Alliance one faculty member at North park put me in contact with a former North Parker who was also gay and had become an Episcopal Priest.  We developed a friendship and I slowly began attending Episcopal services.   Through this friendship I was also able to attend the Ordination Consecration of Bishop Gene Robinson (the first elected openly and partnered gay priest to become a bishop in the Episcopal Church).  No one in attendance at that service could deny God's presence and Glory.  And no one there would deny that God was beaming with Joy looking down on this rite.  It was one of the most memorable experiences in my life and it was all honoring the continuing work of God.  I became more and more involved with the Episcopal Church and in 2007 I fully converted and was confirmed by the VIII Bishop of Minnesota (my baptism in the Covenant church was honored, but I had to be reconfirmed in order to become a member).
I look back at the last 4 years and am so honored and blessed by the experiences God has given me in the Episcopal Church.  I have met amazing brothers and sisters in Christ that I would not have met, had I not been steered back to church. I had the opportunity to go to Cuba with an Episcopal mission team from my church.  I was asked to be a part of a young adult interfaith group composed of Christians, Muslims, and Jews, which eventually led to my current job working at a Jewish Synagogue.  And the biggest blessing is that I am able to worship every Sunday in a Cathedral whose statement is "ALL ARE WELCOME NO MATTER WHERE YOU ARE ON YOUR FAITH JOURNEY."  This is not just a saying either.  When you look at the congregation you see this statement in action: you see same sex couples who have been together for 30 plus years, you see a Transgendered woman (male to female) who sings in a rock group here in the city, you see young children, old people, liberal, conservative, black, white, etc. And when you look at the clergy, leadership, and staff you see the same diversity: women, men, gay, straight, black, white.  I am honored and blessed to be a part of this family.
This is just a short glimpse of my story, there is so much more that was left out.  I want to conclude by pointing out that this post is not meant to deter people from the Covenant Church.  The Covenant is a great place and I have so many fond memories from it, but I also have many hurtful memories. It is no longer the place for me.  I have many close friends as well as family who are still very active in the Covenant.  It does not upset me that they stay in a denomination that is (in my opinion) anti-LGBT, because the Covenant needs people from all walks of faith, and all of these people are great gifts to the Covenant Church.  I don't want to know what the Covenant would look like without them, but at the same time, the Covenant has lost many great people because of its unwelcoming stance on this issue, and I can only imagine what it would look like if it hadn't lost those people, myself included.   I was very happy to find this blog and commend Andrew for his courage to tell his story, and for all the people who have had the courage to engage in this dialog and tell their stories, both positive and negative, both openly and anonymously.  These conversations are needed to promote dialog and are the key to understanding.