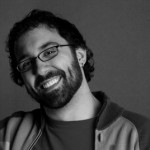 As a North Park Seminary student, I have spent the last ten months writing my thesis, which looks at the relationship between the Evangelical Covenant Church and homosexuality.  I have exegeted all the "clobber" passages, have read and reread the current documents the ECC has written about sexuality, and have read any book I can get my hands on the subject of faith and sexuality.  I also work for a non-profit that works to build bridges between the Lesbian, Gay, Bisexual, and Transgender (LGBT) community and the Church.  I provide pastoral care for countless youth who are coming out, parents who have gay children, and churches that seek to dialogue about this controversial subject.  I live in the gay neighborhood of Chicago and long to show the beauty of Love and Grace to my countless gay friends who have given up on God.
For years, my views on homosexuality were conservative.  But now, after life has unfolded, after reading Scripture over and over, after consulting every commentary I can get my hands on, after years of studying and praying, and after befriending so many gays and lesbians, my views are changing.
I am reminded of the Ninevites, Gentiles, women, children, and eunuchs throughout the Bible.  All of them were folded into the flock.  Not by behavior modification but solely because of the grace of God.  And I think the Church became better when those who were ostracized were welcomed into the body.  She became better when outcasts were invited to be members.  The Body of Christ is better when all people are represented.
I am reminded that in book of Leviticus the lame, the poor, the blind and the disfigured could not approach God.  And yet in the Gospels you see Jesus, God in flesh, eating dinner with the lame, the poor, the blind and the disfigured.  Jesus overturned the rules.  He went against what was always done.  Jesus was scandalously inclusive.
I want to be inclusive because Jesus excluded no one.  I want to be inclusive because I desire that all people have the chance to know the Good News of Jesus Christ.  I want to be inclusive because I think it makes the Body of Christ better.  I would rather err on the side of being overly gracious, welcoming, and loving.  I think God could handle that mistake.
After all my research and experience, I continue to go back to one particular passage written by Dale B. Martin, Professor of Religious Studies at Yale University.  In a way, it haunts me and I am forced to ask the question he asks.  In his book Sex and the Single Savior he makes the following claim:
Any interpretation of Scripture that hurts people, oppresses people, or destroys people cannot be the right interpretation, no matter how traditional, historical, or exegetically responsible. There can be no debate about the fact that the church's stand on homosexuality has caused oppression, loneliness, self-hatred, violence, sickness, and suicide for millions of people. If the church wishes to continue with its traditional interpretation it must demonstrate, not just claim, that it is more loving to condemn homosexuality than to affirm homosexuals. Can the church show that same-sex loving relationships damage those involved in them? Can the church give compelling reasons to believe that it really would be better for all lesbian and gay Christians to live alone, without the joy of intimate touch, without hearing a lover's voice when they go to sleep or awake? Is it really better for lesbian and gay teenagers to despise themselves and endlessly pray that their very personalities be reconstructed so that they may experience romance like their straight friends? Is it really more loving for the church to continue its worship of "heterosexual fulfillment" (a "nonbiblical" concept, by the way) while consigning thousands of its members to a life of either celibacy or endless psychological manipulations that masquerade as "healing?"

The burden of proof in the last twenty years has shifted. There are too many of us who are not sick, or inverted, or perverted, or even "effeminate," but who just have a knack for falling in love with people of our own sex. When we have been damaged, it has not been due to our homosexuality but to others' and our own denial of it. The burden of proof now is not on us, to show that we are not sick, but rather on those who insist that we would be better off going back into the closest. What will "build the double love of God and of our neighbor?"

I have tried to illustrate how all appeals to "what the Bible says" are ideological and problematic. But in the end, all appeals, whether to the Bible or anything else, must submit to the test of love. To people who say this is simplistic, I say, far from it. There are no easy answers. "Love" will not work as a foundation for ethics in a prescriptive or predictable fashion either- as can be seen by all the injustices, imperialisms, and violence committed in the name of love. But rather than expecting the answer to come from a particular method of reading the Bible, we at least push the discussion to where it ought to be: into the realm of debates about Christian love, rather than into either fundamentalism or modernist historicism.

"We ask the question that must be asked: "What is the loving thing to do?"
And so, I continue to ask myself that same question.  I think it is time the ECC starts asking that question too.
Nathan Albert is completing his MDiv at North Park Theological Seminary and works as the Director of Pastoral Care for The Marin Foundation in Chicago, IL.  Prior to seminary, Nathan worked as a professional actor and singer all over the country.  He is a member of New Community Covenant Church and blogs regularly at naytinalbert.blogspot.com. The view of this post represents the author's thoughts and is not representative of the views of The Marin Foundation.