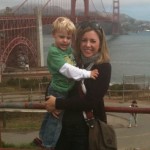 I'm a happy and proud graduate of North Park Theological Seminary.  My three years at NPTS were some of the happiest in my life.  I often describe my seminary experience as being womb-like.  I was fed and nurtured and loved.  My voice was heard.  My opinions mattered.  Pretty magical, if I do say so myself.
Shortly after seminary graduation it was time to write my application for ordination.  I approached it like I approach everything in life – with honesty.  One of the last questions of the application concerned human sexuality.  It covered the gamut – premarital sex, extramarital sex, homosexuality, and cohabitation.  I was asked to briefly respond to the whole of human sexuality in one small space.  I couldn't do it.  It was such a huge question.  I didn't even know where to begin.  I assumed I was to provide a brief and acceptable answer.  And I didn't have that brief, acceptable answer.  I remember saving it for last.  How was I going to honestly answer it with diplomacy and integrity?  I spent thousands of dollars and three years of my life on training to become a minister, I couldn't toss it all out the window because of this question about sexuality on my ordination application.
I have to say that the issue of homosexuality was not one that came up a lot during my time in seminary.  I knew where the denomination stood on homosexuality and I knew where I stood.  And for some naïve reason I believed that our differences did not matter so much.  I could still serve the church, the Evangelical Covenant Church, and cling to my beliefs.  I couldn't imagine that it would make much difference in the local church if we didn't see eye-to-eye on this issue.  This is where we can see that my naïve self was ruling my head.  I had happily existed in my womb called NPTS where my thoughts and ideas were respected and honored.  How could the rest of the world be any different?
Well, I quickly found out that things were quite different in the real world, outside of the confines of NPTS.  I answered the sexuality question as best I could.  The committee quickly saw the piece of Swiss cheese that was my answer.  So many holes.  I was sent home with my paper in hand with instructions to rewrite the answer.  There were some suggestions on how I could do that.  I didn't really follow the suggestions and took another crack at it.  Rejected again.  I was frustrated and the committee was frustrated.  By their assertion, my theology was spot-on.  Why couldn't my social views match my theological views?  I refused to force an answer out of me.  I attempted the question a third time and my answer was finally accepted.  And to this day, I honestly have no idea why they accepted it.  We were obviously at an impasse, but they still let me through.
I reread the answer to Question #13 last night.  And in rereading the answer I found that I never really answered the question that was being asked of me.  I pretty much admitted that there were a lot of gray areas around human sexuality.  And then filled up the space with a lot of words that proved the grayness.  I must admit that I feel quite sad when I read the application now.  It was written ten years ago, almost to the day.  I actually can't believe that I didn't say what was on my heart and in my mind.  I think fear drove me.  I had come this far and I didn't want to give it all up because of Question #13.
I tried for a few years to live with integrity and purpose while still serving as a minister in the ECC.  It was really, really hard.  I found that I was constantly making excuses for my denomination's stance on the issue of human sexuality.  I finally came to a point in 2004 when I decided that I was either going to be a minister in a denomination where my beliefs were congruous with that of the denomination in which I served or I was going to leave the church altogether.  While I weighed my options, I entered into a graduate program for education.  I was truly at a loss of where to go next.
And then I sort of stumbled upon the United Church of Christ.  I had moved to Connecticut in 2004 and UCC churches dotted the landscape.  There are actually more UCC churches in Connecticut than there are towns in Connecticut.  It was in the UCC that I discovered that I can find a church that is congruous with my belief system.  A church that I did not have to make excuses for.  There was freedom in knowing that.  But, with the freedom, came a tremendous amount of pain.  What about my ties with the ECC?  What was I going to do about that?
I remember having a long and intense conversation with Stephen Graham back in 2000.  He was Dean of Faculty at NPTS at the time.  Steve and I were tight.  I was dialoguing with him about some of the ideological differences that I was having with the ECC.  I will never forget what he said to me and how he looked at me.  His words, "Sara, please don't jump ship.  Whatever you do, don't jump ship."  And here I was four years later ready to jump ship.  I believe that there is a place for everyone in the church.  I believe that God makes room at the table for each person.  There is no asterisk beside that statement.  EVERYONE!  How can I stay in a church that places an asterisk beside that statement?  I felt like jumping ship was my only option.
So, I made the decision to take the leap.  I gathered piles of paperwork.  Met with endless committees.  Wrote lots of new papers.  And answered lots and lots of questions.  In 2009 I officially transferred my ordination from the Evangelical Covenant Church to the United Church of Christ.  And I did it with a bag full of mixed emotions.  I love both denominations for different reasons.  But, I felt as though I couldn't sit on the fence.  I had to make a choice.  And I continue to live into that choice.
The state of Connecticut also took a monumental step in 2009.  Gay marriage became legal.  I was now living in one of the only states in the country where gay marriage was legal and I now found myself in a position where I could actually officiate at a same-sex wedding without breaking any explicit or implicit commitments that I had made to a denomination.  With a clear conscious, I could legally and sacredly officiate such a wedding.  My vows to the state and the church would not be compromised.  In that year, I officiated at two same-sex weddings.  One for neighbor friends; the other for a seminary friend.  Yes, you heard me correctly.  A friend from North Park Theological Seminary contacted me and asked me to officiate her wedding.  She and her partner made the trek to Connecticut, and in a small chapel, in the huge church that I was serving, they legally and sacredly became married partners for life.  This all happened the way that it was supposed to happen.  It was ordained.  And I was now ordained in a church that allowed my voice and my actions to reflect the same thing.  I was no longer in conflict with my inner and outer self.  I really don't believe in accidents.
Let me convey that I didn't happily and joyfully leave the Evangelical Covenant Church.  And let me also say that the ECC has formed and shaped who I am as a person and pastor.  I recently resigned from a position at a very large urban church in Hartford.  I was one of four clergy on staff.  My colleagues were trained in UCC seminaries and grew up in UCC churches.  During worship on my last Sunday at the church, one of my colleagues, who has been in ministry for 40+ years, stood up and shared some thoughts about me with the congregation.  He shared with them that he believes that I am the brightest and best theologian on staff.  He went on to say that I am one of the brightest and best that he has ever seen.  I certainly do not attribute this comment to anything of my own doing.  I give full attribution to the place that trained me as a theologian.  The place that helped me delve deeper into God's word.  The place that formed me and shaped me.  That place was North Park Theological Seminary, a virtually unknown school here on the east coast.  My contemporaries hail from Yale and Princeton and Andover Newton.  I hail from North Park.  And I couldn't be happier.  I would never for a moment take back those years or wish that I had trained somewhere else.  The foundation that was set for me is as firm as I could have ever hoped for or imagined.
So, yes I am in love with two denominations.  But, gosh, am I grateful that we are all one body.  And what an honor and privilege it is to serve that one body.
Sara and her husband, Joel, live in West Hartford, CT with their three boys, Gabe (9), Eli (7), and Caleb (almost 5). She most recently served as minister at Asylum Hill Congregational Church in Hartford, CT.