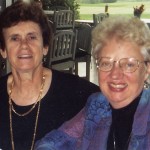 It's hard to believe that "Coming Out Covenant" is truly up and running. I'm in my 70th year, and it has taken a very long time to acknowledge a large group of human beings living in our midst. I am one of them.
My name is Charlotte Johnson, and I live with my spouse, Joan Gauthey, in Washington, CT. We belong to Salem Covenant Church in Washington Depot, where we have been active for 44 years. When I say active, I mean ACTIVE. I've been in the choir since age 14, both of us have spent years on church council, Joan has been church chair, together we've been on Diaconate, Fellowship committee, Christian Education, pastoral search committee, Joan helped with nursery and I've organized Lenten Lunches for 20 years. SHOCKINGLY, we even headed the young people's group when we were young and agile. (Some of those "kids" are now grandparents!) Oh yes, delegates to annual and conference meetings several times. Where we totally fall by the wayside is that neither of us bakes, and I'm a mediocre cook.
Joan has been a wonderful high school teacher for 35 years in town, and was coach of the year in Field Hockey in 1991 for the United States of America. Her Covenant resume is pretty thin. She's only been in the church 47 years, is Irish, Arab and French, and was brought up in a Congregational Church. However, she did work with Jerry Johnson and the Barnabas group for several years. I, on the other hand, am a saturated "Covie." My grandparents from Sweden helped start our church in 1888. My father was on the Diaconate for 40 years, and mother rolled enough bandages to circle the Congo. They put their blood, sweat, tears and constant prayers into our church family, as did Aunt Ruth, who lived with us and was always part of the family. Aunt Ruth was born in Sweden, confirmed in our church, and died at age 100 and buried by said church. My sister, 13 years older, and aunt went to North Park College (NPC) and Swedish Covenant Hospital (SCH) starting in 1924 – 1951.
The warp and weft of our family is woven into every part of the church, and vise versa. In all of my life, my Christian community has been made up of loving, Christ-centered people. For me, Sunday School, Confirmation, camp at Cromwell and then on to North Park and Swedish Covenant Hospital was the best and only way to go. In 1960 I was a counselor at Camp Squanto. NPC opened my mind to wonderful new ideas. Zenos Hawkinson and Karl Olson were my heroes, as was Doug Cedarleaf at North Park Covenant Church. The instructors at SCH taught exceptional nursing skills and how to merge that with Christ's love. I was also involved with the Broken Wall coffee house for five years, part of those years as program director.
The realization that I was different was always there from the time I was eight years old.  By 1962 I knew I was a lesbian and struggled to juggle my "perversion" and feelings with my faith. Discovering you're gay or lesbian in the Covenant at that time, and apparently still in this time, is tantamount to a white southern belle in Mississippi discovering she had a "drop of black blood" in her family history just before she married into a "pure" southern family. Or it could be a German family in Nazi Germany discovering a Jewish grandmother. Who knew? Too bad. Ta, ta! It's the same ostracizing for homosexuals.
There was no out. The Bible told me so. Why wait to go to hell? So I slit my wrists, took a lot of sleeping pills with alcohol and figured that was it. Sadly, this still happens today among evangelical young people. I was lucky to be saved by friends and my sister and ended up in a great psychiatric hospital for six weeks. Best thing that could have happened to me. An NPC psychiatric counselor had introduced me to a Jewish psychiatrist who was very advanced in thinking and tried to bring me around to this thought: "You are all right. You have to learn to deal with people who don't think you are all right." What a concept in 1966! The most difficult thing was dealing with my own internalized homophobia. That is really deadly.
A few bad things happened. There was a certain amount of shunning by a few people. I wasn't really out, but didn't put a lot of effort into passing as straight. I got paranoid and depressed at times. I came back to Washington in 1969. Joan and I rented, and then bought a house. I worked as a nurse for 20 years and have been a massage therapist for 25 years. In 1976, we had a very troubled minister. He was the first pastor to open his study for people to come and discuss concerns. He was charismatic. He made a huge difference pushing us to build a new church. After a while, he began acting strangely, making people uncomfortable. When the leadership started looking into his history, this was an evident pattern. Those who heard his threats were floored, those who didn't saw no evidence of harm. He hurt many people including Joan and myself, by outing us to the whole town and writing letters to our employers to fire us on moral grounds.
In 1992, one issue that turned off ministerial candidates was our presence. One person refused because she thought we would  "recruit" people. There was quite a discussion at the Seminary if ministers should allow GLBT people in leadership roles. One elderly, former minister wrote us a scathing letter relegating us to hell. So why stay? So many people have asked this question. If you are so uncomfortable –get out!
Well, it goes like this.  My grandparents and other elder relatives said "No" to the Lutheran church of Sweden. They were Pietists – "läsare" ("readers") – who believed the Bible to be a living book, open to interpretation, not a law book. My family never used negativity in their Christian faith. My overall experience was one of caring, love and learning, even through my ten years in Chicago, when often I questioned my sanity. Friends who visited me at Forest Hospital were greeted with, "I'm here because I'm queer." You know what? Of all my many visitors, only one turned away. They saved me! Bless Sylvia Lundberg Foster. I'll never forget her comment, "Is that all? Here I thought something was really wrong with you!"
After coming home to recover and telling my family I was homosexual, Mom asked, "Do you think it's all right with God?" I said, "Yes!" Then she said, "Well it's all right with me."  Later, Dad acknowledged, "I'm glad Joan is in your life. She helps to stabilize you!" Gosh, I needed stabilization? These are people who never went beyond 14 years and 16 years of age before having to work for a living. Their knowledge was in faith, prayer, a living Bible, and community of saints. Aunt Ruth said little, but in 1993, when we attended an AIDS quilt march on Washington, and I stumbled around to explain, she asked, "Are you ashamed of what you are doing?" I then told her we were going to a gay and lesbian civil rights march. She smiled and asked, "Will I see you on television?"
Our home has been a vacation, reunion, and Thanksgiving gathering for 40 years for both our families. Nieces and nephews, from both sides of the family have stayed with us. My niece and nephew tried to teach us to dance. I wish they hadn't laughed so hard! What more could we ask!
After the terrible blowup in our church in the mid-seventies and a new church was actually built, every minister and interim minister who has served here has supported us. Most have not quite agreed with our interpretation of scripture, but they never put us down. In fact most tried to understand where we were coming from in the LGBT world, not anything they knew much about. They all put up with my anger, weeping and kvetching about the Covenant attitude of fear, ignorance and dislike from many in the denomination. This attitude was backed in the absolute belief of a few verses in the Bible. Do these people realize that these words are not "wonderful words of life"?  For many they are words of death!  When a minister rejected the church because of us, a member said, "If she doesn't want you, we don't want her."
In 2005, Connecticut passed civil unions for same-sex couples. We were first in line on that Saturday, October 1st at the Town Hall. The town clerk opened the office especially for us and another well-known male couple. The Sunday before, Joan had stood up in the church and invited everyone to our ceremony. One person immediately offered to bake a wedding cake for us. A family whose baby was baptized that same Sunday, but had little to do with our church, turned to Joan and asked if they could be part of the celebration!  Two people were upset with us, but within the week one commented, "How silly can I be? Joan and Char supported me when I had my second marriage. The Bible said that's wrong as well."  The other very conservative gentlemen came up to us a week later and said, "I've prayed about this all week. You two are good people and I wish you all the best!"
We had over 200 people attend our service, which was led by Cheryl Anderson, pastor of the First Congregational Church of Washington. We didn't have much to do, as friends and family led us through routines and ideas that we never imagined would be a part of our lives. We called people in the phone book who we thought might enjoy our ceremony. Everyone showed up, including almost all of our church family, pastor and youth pastor.  There were young children and people in their eighties, former students, teachers, clients and some people we didn't know. A former student catered a wonderful reception. We were so overwhelmed by the care and love that we floated for many weeks. Several years later, Connecticut passed the marriage act. We had a very simple ceremony. With the announcement in the paper, people asked, "We were at your wedding. Why did you have another one?"
This is what our Covenant Church has meant to us, here, in Washington Depot. It is trying to be a follower of Christ, not a Christian. Our church exemplifies what my parents and all other relatives found good in the Pietist  movement. Rather than exclude, it has given access to all. Some day I would love to stand at an annual meeting and say, "Var står det skrivet!" ("Where is it written!").  I feel God let me live to be a part of a small light in our denomination to open the doors to all who wish to come in. Here I stand, I can do no other.