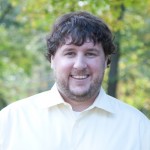 When I first arrived at North Park Seminary, it was always a bit of a surprise to me how much the question of women in ministry remained an 'issue' for many congregations, lay people, clergy, and students in the ECC.  Having grown up in the United Methodist Church, I would jokingly say to classmates, "We were well beyond that at my home church.  People were more worked up over the lesbian couple that sat in the pew behind my family every Sunday."  However, the irony for me in making that statement was that, as a child, I had no idea about the nature of their relationship, and I had no concept of the divide that existed in my church over their presence, participation, and leadership in our congregation.  The reality is that for me, homosexuality did not exist.  It was not something I encountered openly and regularly, and so it was off of my radar screen save for the cruel jokes and words pre-adolescents will call one another.
My first real encounter with the tension that exists between the LGBT community and the church came when I was a freshman at Penn State.  As is the case on many campuses of that sort, there was a preacher who would stand outside one of the campus buildings on the green and preach sermons to students.  Because he stood outside the Willard Building, he was 'affectionately' referred to as the Willard preacher.  During the spring term of my freshman year, there was a large National Coming Out Day Rally scheduled to happen on campus on the steps of the theater that sat just opposite the Willard Building.  When I walked out of my calculus class that day, I had no idea that I would be walking right into the middle of a real live demonstration of the tensions that exist between LGBT people and the church.  On one set of steps stood a group of students and speakers calling on people to be true to who they were, to not be ashamed of their sexual orientation, and to be open and proud about it.  On another set of steps, led by the Willard preacher, a group of students stood chanting, "Sodomy Is Perversion!"  I did not fully understand all that was going on in my heart that day, but I felt like I had to make a choice.  One choice I could make was to join the chanters.  Now, as an adolescent wrestling with faith at that time, this was tough for me.  I had been taught that God did not affirm homosexuality, but I was not sure how I felt about that and I certainly did not feel good about the chanting and jeers that were happening.  A second choice I could make would be to join the gay pride group.  In some ways, I felt that joining this group was a way of saying no to God even though I did not like how God's 'representatives' were acting that day.  I was struggling in my faith, but was I ready to take this step away?  I could not see a way that these two groups could peaceably co-exist, and I felt like my faith in Christ was on the line.  In the end, I sat down with some friends in the gay pride group.  The funny thing though is that in making that choice, at the time, I thought I was taking a step away from God, but in hindsight, I see that God was leading me in a different path, calling me in a different direction, and asking me to make a commitment to follow him in a different way.  As I look back on that day, I see that that choice was a step in a journey of learning about God's call for compassion, mercy, justice and peace.  But it was only the beginning of the journey for me.
In the end, I did not completely abandon my faith because of that day.  God's grip remained on my life.  But, not surprisingly, as I woke up to the existence of LGBT people in the community and in the church, the end result was an adoption of fairly traditional, yet compassionately nuanced, understanding of human sexuality.  Later in college, I remember reading Stanley Grenz's book, Welcoming But Not Affirming, and adopting this as a way forward for the church.  Of course, adopting this ethic was entirely separate from any real interaction with the LGBT community, and it certainly paid no attention to the amount of pain experienced within and outside the church by these people.  The reality is that, as far as I knew, I had no gay or lesbian friends, and so this was an easy place to land.  It enabled me to feel like I was a compassionate person, but to avoid any real conflict or conversation around this question.
It was not until I took a Sankofa journey as a seminary student that my eyes began to open more.  I came to seminary with a burgeoning sense that something was amiss with the privatized and overly personal spiritual worldview that I had, and it was the experience in the class and on the trip that opened my eyes to the deeply personal yet very public God we follow.  My eyes began to open to the systemic racism, classism, and sexism that existed in the world and in the church, and I began to see the ways that I, as a white middle-class man, had unknowingly benefited from those systems.  God was taking me on an eye-opening journey to have more of a sense of what the Bible truly meant when it spoke of God's desire for righteousness and justice.  Of course, it did not take long to connect the dots and see that my privilege was not just in being a white middle-class man.  I quickly had to acknowledge that being a white heterosexual middle-class man meant a lot too – especially in the church.
To that point, I had never honestly studied much Biblical teaching on sexual orientation.  I had never had much interaction (knowingly) with gay and lesbian people, and so a journey began.  I looked more closely at the handful of texts that are often referenced in this conversation, and I was surprised to find that traditional interpretations of these texts were found lacking.  I began participating in the Gay-Straight Alliance that Michael Satterberg had begun on campus.  Armed with a better understanding of the Bible and with the stories and relationships built with gay and lesbian people, I was ready to move forward.  I was ready to be part of ushering in a new day in the church!
How naive I was!  That year, North Park University and the Covenant Church became a headline on the news in Chicago.  Apparently, as the story was told, an adjunct professor was denied the possibility of a full and tenure track position because she was a lesbian.  As a Christian university, the word was that her lifestyle was inconsistent with the Christian faith, and so she could not have the job.  Many of us saw this as an injustice and a place where we should and could speak out in the university community that we were a part of.  Some of us passed out flyers and stickers outside a meeting where the faculty were gathering to discuss the issue.  Some professors thanked us for what we were doing, but others were rather angry and confrontational in the way they approached us.  Eight students, including me, signed a letter to the editor of The North Park Press, lamenting the decision of the administration of the University.  We received little response from the administration because of that letter, but it showed up elsewhere!
At the time (it may still exist, I do not know.), there was a web forum of Covenant pastors and lay people discussing various topics pertinent to life, faith, and the Covenant church.  Our letter made an appearance, and reading the responses was one of the more painful things I had experienced to that point.  Harsh words, name calling, and calls for us to leave the Covenant church littered the message board.  People who did not know anything about me but that letter were calling me names.  People who had no idea that I loved the Covenant church just as much as them were telling this young seminarian (along with my colleagues) that we ought to look for another denomination.  People who knew only one small thing about me based on reading a letter to the editor of a college newspaper had already made up their mind about who I was, and it hurt.  Probably sounds really familiar to any LGBT people who may be reading this.
It was early in my journey of understanding and advocacy for LGBT people, and it had already cost me something.  Even me, a white heterosexual middle-class man, had paid a price simply for publicly lamenting that a university rooted in a non-creedal church tradition could not see the possibility that one could consider themselves lesbian and Christian without it being a contradiction.  The hard lesson that I learned that day was that if there was to be change in the church for the sake of LGBT sisters and brothers, it was going to take the willingness of privileged people, of straight people, to stick their necks out.  I regret that it took me that long to make that decision, and I confess that there have been opportunities to speak out since that I have not always taken.  The reality is that the pain of that experience and the possible costs associated with advocacy are frightening.  I love the Covenant church, and I do not want to go anywhere else.  But the reality is that we need to move forward somehow lest we continue to collect stories of gay and straight lay people and clergy who have shaken the Covenant dust off of their sandals and moved on to the next town.
I am very honored to serve the church that I do now.  Interestingly, when I was interviewing with churches as I pursued a call as a lead pastor, this was the only church that asked my opinion about homosexuality and the church.  When they first asked, I was afraid, but I came to realize that their question was because they have members and leaders in their congregation, one of whom was born and raised in this church, that are a married lesbian couple.  They wanted to know if I would cause any harm to these friends.  The truth is that I think that this church may be a good example of a way forward for the Covenant church.  What I mean is, there is no Biblical and theological consensus in this church on homosexuality.  There are some who hold very traditional understandings, and there are others who hold a more open theological position.  But where there is consensus is on the commitment of this church community to love and welcome these two sisters with open arms, to receive communion from them without any hesitation, and to listen to one of their voices sing beautifully from our choir loft.  Their sexual orientation is different from the rest of us, and that is a challenge for some of us, but we are still us.  We are the body of Christ, we are the church, and we commit to loving one another regardless of our mutual brokenness and frailty.  I feel like we can be a model of a way forward for the Covenant church.  In my opinion, it is not far enough, but it is a start.  But the journey begins somewhere.  Will we build a bridge or will we build a wall?  We all have to make a choice.