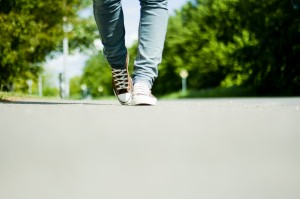 Last night as I was sitting in my bedroom reading, I suddenly became aware of the date. Exactly four months have passed since that January morning when I woke up, sat down at my computer, logged into WordPress, and clicked "publish" for the first time. I put a link on my Facebook page and went upstairs to make breakfast: oatmeal and blueberries – just another day in the life of the recently unemployed. I sat in the kitchen and ate my fibrous morning meal, thinking to myself, "who's really going to read this blog?" I had already come out to my entire family, to most of my friends, and to nearly everyone I encounter in my day-to-day life. I imagined those who would see my link on their Facebook news feed simply saying, "Oh, Andrew's gay; knew that already," then keep scrolling. But by the time I returned to my desk, my inbox had started filling up, my phone was ringing, and Facebook notifications were coming in by the minute. At the end of the day, we had received nearly 4,000 hits.
To this day, I still don't quite get how it happened. I was just tired of being forced to hide. I was tired of pretending, tired of feeling ashamed, tired of withholding the truth. And although it felt rather lonely, I knew I wasn't the only one. Who would have thought that with a few simple blog posts, we'd be opening the door for a conversation that so many had been eagerly waiting and longing for in our denomination? Yet it's as if a longstanding veil of secrecy and silence had been lifted, and a bit of Light, even if only a glimmer, was beginning to shine in.
It's hard to believe that now, four months later, we've shared 27 posts and you've offered 361 comments. We have 440 fans on Facebook, and over 56,000 hits in total. We've even been mentioned in a post at Sojourners! And we're just getting started. We know that there are countless more stories out there that need to be told, and we trust you to come forward and share them. The truth is, when we first created this blog, none of us had any idea where it would take us. In many ways, we still don't. But we've found some great company along the way: you. We've met beautiful and courageous people, whose lives and stories challenge us, sadden us, inspire us, and move us. And that's really why we're here. We're not here to argue over texts or to advocate policy change. We're here to listen to one another's stories, to create a space for those stories that have been silenced and ignored, and to connect real faces with what too quickly becomes a faceless "issue."
Many people like to recall the question often asked by early Covenanters, "Where is it written?" Although the question was never originally meant to solicit proof-texting, this seems to be its common use today when we're faced with thorny issues. It's often the first question we jump to when discussions of homosexuality arise: "The Bible says it. I believe it. That settles it."
But I'm afraid in our discussions many forget the other oft-asked question by our Pietist forebears: "How goes your walk with the Lord?" As we occupy ourselves with scriptural and theological debates about homosexuality, we too easily neglect to stop and ask this important second question of those for whom this is not merely an issue but their very identity and life. Some would like to debate whether it is biblically appropriate for the church to be "affirming" of homosexuality. While such candid discussion has taken place here, this site is not primarily intended as a forum for weighing those arguments. Because the fact of the matter is that the call for the church to be "welcoming" is not up for debate: it is not an option; it is a Gospel mandate. And perhaps the best way to assess how effectively we have welcomed our LGBT sisters and brothers is to ask them. Ask them how, or if, they have felt welcomed. And if they've already left, ask them why. Ask them how they have felt cared for and supported. In other words, ask them, "How goes your walk with the Lord?" Listen closely, with humility and grace. And take their responses seriously. It's a very "Covenant" thing to do. And it's precisely what we intend to keep doing here.  We're glad to have you walking with us; it's a long road ahead.