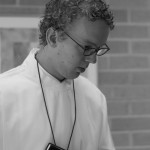 Several months ago, I received the latest issue of The Covenant Companion, which contained the cover story, "Our Place in the Covenant." In anticipation of the denomination's 125th Annual Meeting, the Companion featured several short stories and testimonies from Covenanters of varying backgrounds on how they have come to find a place in this church. In that same issue was a letter to the editor by my friend and fellow blogger, Ralph Sturdy. Ralph pointed out what he referred to as a "sad commentary": that support for parents and friends of gay and lesbian children in Covenant churches has been relegated to a back-page classified ad for a confidential email. "Are they being asked to hide behind a veil of secrecy and shame?" Ralph asked. "Are we saying to our gay and lesbian children, many baptized in Covenant churches, that there is no place in the Covenant for them?" (emphasis mine)
Here, in the same issue about finding place in this church, an issue that celebrates belonging and Covenant identity, was a letter about quiet marginalization. Here was a letter raising a voice for those whose place in the church has, ever so subtly, been moved to the borders, to the fringes. The sad irony wasn't lost on me, because it was and remains a dichotomy I have been forced to wrestle with every day of my life. And so, I felt compelled to write and submit to the Companion the following response:
I read with great joy the stories shared in the recent "Finding Place in This Church" series. Joy: for the unique and exciting ways in which God has led persons to find welcome and inclusion in this family of faith called the Covenant. There is great joy in belonging! I have known this joy much of my life, having been born, baptized, and confirmed in a Covenant church. I grew in my faith and discipleship through summers at Covenant camp, and later grew in my intellect and character through studies at North Park – college and seminary. As a Covenant pastor, it is my great joy to celebrate our unity as the Body of Christ each time I am privileged to preside at the Lord's Table.

Much of my formation can be attributed to the nurturing care of Covenant churches. And yet, rich as my Covenant heritage may be, my place in this church appears questionable. In this church, I have been baptized, confirmed, spiritually formed, theologically educated, and called. I am all of these things… and I am also gay. My voice is one of an isolated minority, left to struggle in silence, deeply committed to this church, yet plagued by the seemingly unanswered question: "IS there place for us in this church?"
They never printed the letter, of course. They never even acknowledged having received it. There was no response at all. But this wasn't a shock. It's hard enough for us to talk about the reality of LGBT persons within our congregations, let alone among our clergy. Though the lack of response may not have been a surprise, it left that deep and urgent question still lingering: "is there place for us in this church?" I ask that question every day, torn between my sincere hopes and my sobering reality checks.
This site has been created as a space for those who continue to grapple with that very question. This is a space for sharing stories and experiences, both as LGBT and LGBT-affirming Covenanters. This is a space for those who hold to the conviction of our Covenant forebears who insisted, "how can we turn away from the Table those who Christ has already made welcome?" This is a space for those who pray, long for, and are eager to begin working to create a church where all are truly welcome and where all can find a place. If Christ has already made room for us at his Table, must there not, then, be a place for us in his Church? May it be so: even here, even now.
[UPDATE 1/20/11: I've just spoken with a friend from the Covenant Companion. It seems that somehow, although I have record of sending the letter to the correct email address, it never came through to anyone in their office. It was an honest miscommunication. I want to be clear that the purpose of my original post, and this overall blog, is not to lambaste the Companion or any of its staff and portray them as a barrier to denominational conversation. The fact that my letter wasn't printed, regardless of the reason, is actually a minor detail in the overall story. Let's not allow one little mishap to distract us from the larger, and far more important, dialogue that requires our thoughtful and humble attention as we move forward.]