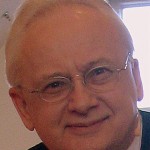 Ever wake up in the morning and for that first instant of wakefulness wonder where you are? That is a little how I feel writing this blog. I feel like I just woke up and I am wondering how I got here. One moment I was "party line" Covenant pastor who had the appropriate evangelical view of homosexuality and then it was like I woke up to a different way of seeing.
In reality I think the process of "changing my mind" was happening slowly under the surface and I didn't know it was happening until one day it popped out and surprised me. What changed my mind? A number of things. First of all I think it was years of pastoring people. It started with a young man 35 years ago who asked if he could come and speak to me but when he arrived in my office he could not speak a word of what was on his mind. We sat in silence for an hour – when our time was up I asked him if he wanted to come back again and he shook his head yes. Two more times we sat in silence for an hour before he was finally able to say to me that the had come to realize that he was gay. But saying it out loud was all he could do. He never came back to see me again, but his struggle left an indelible mark on me and gave seed to the conviction that homosexuality was certainly not something that he was choosing, instead it was something that he could not avoid. His self loathing and fear was palpable and my heart went out to him.
This process continued in every church that I served. For in every congregation I discovered that there were committed Christians who were gay. If they could risk it they would tell me and it would become our own version of "don't ask, don't tell." And I would hardly ever let on that there were gay people in the church because if I did all hell would break loose. I recall one sunday when preaching on Paul's statement that we should become "all things to all people in order to win some" that I got on a preacher's roll and elaborated saying, "we should become like the rich in order to win the rich and we should become like the poor to win the poor and we should become like the gays in order to win the gays!" A woman popped up right in the middle of my sermon and interrupted saying, "could you explain what you mean when you say we should become like the gays in order to win gay people to Christ?" And I recall another instance when Homosexuality was in the news and in a sermon I preached compassion. That week my church chair and vice chair took me out to lunch and remonstrated me saying, "Phil you missed a great opportunity to define our church as being against homosexuality." These two people were my friends and I was surprised by their reaction but I told them that I would not do that because my understanding was that Jesus came to seek and to save those who were lost not to condemn them. But the message was clear; in the Evangelical Church don't voice support for Gay or Lesbian people or there will be trouble.
Second, it was my own children. When I was once young a long time ago, my parents and the church taught me the evils of homosexuality and I believed them. Not so my own children. As my kids grew up and encountered people of different sexual orientations they simply didn't buy the idea that homosexuality was wrong and nothing I could say or do could convince them.
Finally, it was my own deepening understanding of scripture. Several years ago, I embarked on the task of listening to the entire Bible. I would walk every morning for an hour listening on my ipod. One morning as I was listening to the Old Testament – I recall awakening to the fact that what I was listening to was a "primitive" understanding of God. These writers were doing their best to put into words who God was – and their description was flawed. Their view of God was patriarchal, vengeful, and limited. However, this is not the way that I had been taught to view their writings. I had been taught to accept what they had to say as Gospel, as true, as unquestionable. Suddenly I realized that I needed to take the Bible for what it is – every generation's best description of their understanding of God – and that it is my task to add to the conversation by adding my best understanding of God. In other words as Baptist minister Bill Hull once said at a Covenant Midwinter Conference, "We should tear the back cover off our bibles because God is still speaking."
Finally, it was when a young man who had grown up in the church that I had served and had gone off to seminary emailed me to say that he had come to realize that he was gay that I finally woke up. I woke up to the fact that unless people like me, people who have been in the Evangelical Covenant Church for years finally speak up and "Come Out" in support of a different way of understanding homosexuality in the context of our faith that there will be no place for Gay and Lesbian people within the Church.
Now I know that this is a very divisive and difficult issue. So a few like minded friends and myself are creating this website in order to give Covenanters everywhere a place where they can "Come Out" in support of full inclusion of Gay and Lesbian and Trans-Gender people within the Covenant Church.
I want to be clear that this website is not a petition or a political movement it is just a forum where people can give "voice" to what heretofore they were afraid to say, "That God don't make no junk! That all people regardless of sexual orientation are to be loved cared for and included in the life of the community of faith. That Jesus is about the task of gathering all sinners, and that all of us ARE sinners. That Jesus is uniting all peoples of the earth in a kingdom of love, and grace." Soon we will be adding a place where you can add your voice and if you choose your name to the list of those who are "Coming Out Covenant."